WHAT IS A BILLING AUDIT?
Billing errors can reduce a practice's revenue by up to 30%, which can translate into as much as $50,000 in lost revenue per provider. Whether it's inaccurate or inefficient billing, errors can affect your practice's bottom line. A billing audit provides a review of billing standards and helps correct billing oversights.
Download our
Billing Audits flyer: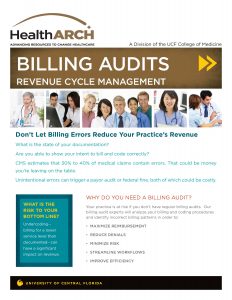 IMPROVE THE FINANCIAL HEALTH OF YOUR PRACTICE
We help you review your practice's coding and documentation to reduce your risk of compliance violations and help maximize your reimbursements.
WHY DO I NEED BILLING AUDIT SERVICES?
Our billing audit experts can analyze your billing and coding procedures and identify incorrect billing patterns in order to:
Improve Your Earnings – identify lost revenue
Meet Billing Standards – ensure appropriate payment and compliance
Check Internal Processes – assess the accuracy of documentation
Check for Errors – verify coding and billing support
Provide Peace of Mind – protect your practice from legal and financial risk
BENEFITS TO PROVIDERS:
Ensures proper codes are being billed to governmental agencies and insurance carriers

Protects against fraudulent claims and billing activity

Identifies and corrects problem areas before payors challenge inappropriate coding

Helps prevent governmental investigational audits

Correct undercoding and code overuse for documented procedures

Identifies reimbursement deficiencies and opportunities
HOW HEALTHARCH CAN HELP
CHART / ENCOUNTER DOCUMENTATION AUDITS
We review the encounter documentation to determine if it supports the billing codes. A minimum of five random encounters per provider will be reviewed unless discrepancies show the need to view more.
Deliverables:
Scheduled visits for audit review

Completed audit sheets and summary reports by provider and an organization audit summary report

Final meeting for presentation and review of audit and summary report per provider
INTERNAL AUDIT TRAINING
One-on-one chart audit review training on:
Selecting and determining an audit tool

Reviewing encounter documentation

Determining encounter status (correct, miscoded, undercoded and/or overcoded)

Documenting inconsistencies and recommendations
Contact HealthARCH today for your FREE initial consultation.
To learn more about our services, email HARevenueCycle@ucf.edu or call 407.266.4000.