Is your practice doing what is necessary to meet the requirements of the new CMS Quality Payment Program (QPP)?  Most providers who see Medicare patients are now subject to MACRA which began on January 1, 2017. 
Jump Start MACRA

by contacting HealthARCH's team of professional consultants who can provide you with the necessary training and support to successfully transition to this new model of reimbursement.  Don't delay – preparing your practice now will put you on the path to success to avoid negative payment adjustments and receive higher reimbursement.
Download our       
MIPS flyer: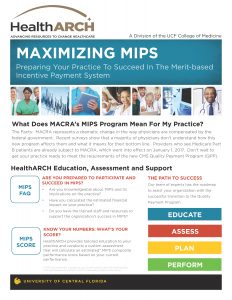 What is MACRA?
Congress repealed the Sustainable Growth Rate (SGR) formula that calculated physician payments and enacted the Medicare Access & CHIP Reauthorization Act of 2015 (MACRA).  MACRA established a new framework for physician reimbursement that focuses on rewarding better outcomes instead of the traditional method that paid based on the number of services provided.
MACRA establishes two new payment models for measuring and reporting care provided to Medicare beneficiaries:
1. Merit-Based Incentive Payment System (MIPS)
2. Alternative Payment Models (APMs)
What is MIPS?
The Merit-Based Incentive Payment System combines parts of the Physician Quality Reporting System (PQRS), the Value-based Payment Modifier (VBM), and the Medicare Electronic Health Record (EHR) incentive program into one single program in which Eligible Professionals (EPs) will be measured in four areas:
1. Quality
2. Cost
3. Improvement Activities
4. Promoting Interoperability (formerly Meaningful Use of certified EHR technology)
What are APMs?
Alternative Payment Models are still being defined by CMS but examples will include certain Accountable Care Organizations (ACOs), Patient Centered Medical Homes, and bundled payment models.  CMS has proposed these as potentially qualifying for APMs but participating in those models does not automatically qualify providers for an APM.
What Can I Do To Prepare For MACRA in 2023?
Education and preparation are critical to ensuring your practice will succeed under these new models.
Key Considerations:
• Most providers fall under MIPS
• The MIPS measurement period begins on January 1st of each year
• Incentives and penalties based on 2023 performance will begin in 2025
HealthARCH Is Your MACRA Resource
Our team of experienced professionals can help you prepare and successfully navigate MIPS and APMs.  Contact us today for a free consultation at 407.266.4000 or via email at joinhealtharch@ucf.edu.